Chanel Illusion D'Ombre cream shadows ($36/.14oz) were introduced to the permanent line with Chanel Fall 2011.  I recently picked up Epatant, a pewter metallic shimmer.  It has a slight green cast in certain lights, and in bright sun it's a brilliant silver.   The texture of these shadows are kind of mousse-like, light and airy and easy to pick up with a brush.  It comes with a mini slanted liner brush, which is decent when applying these as liners.
Shade
Sun
Sun again, emphasis on SHIMMA
So yeah, you can see how this straight up glows in bright direct sun.  Most of the time, however, it looks like it does in the shade swatch, a slightly green tinged pewter shimmer.  I did a wear test as well, and I mean a WEAR test.  It was about 90 degrees with epic humidity, and then I got caught in a giant downpour bringing in the groceries.  I have to say, it fared pretty well, with only minimal creasing after the downpour.  My hair, on the other hand, was an entirely different story.  Disaster.  Also my unibrow seems to be growing back, WOOPS.  I wore Epatant applied with a synthetic concealer brush over UDPP.
6 hour wear test results (click to view full size)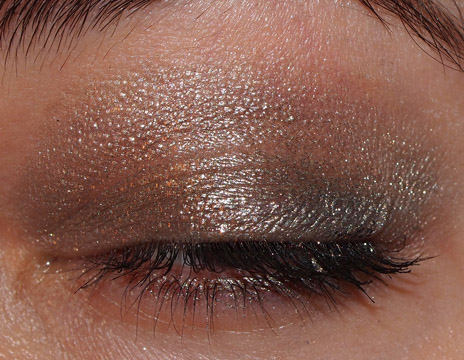 Starting to crease, but considering the conditions and the time, not too bad!
Overall, it's definitely a great shadow though it can be too metallic-y for every day.  Still, I will probably get a few more shades eventually to use for days when I can be a little more sparkly.