Quick swatch for today, of Chanel Misty-Soft Ombres Contraste Duo ($42/.09oz).  These swatches are not my best work–the sun was going down as I swatched these.  The first swatch picture is color accurate though, the duo is a browned purple with a satin finish paired with a lovely lilac shimmer.  The second swatch picture shows the lovely shimmer in the lilac.  The swatches were done with a sponge tip applicator on no base.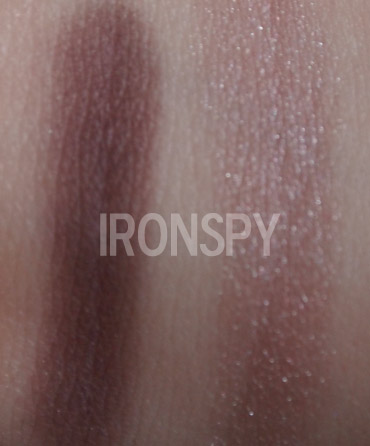 Color accurate!
Look at the lovely shimmer in the lilac shade!
In the pan!
EOTD, lilac shade on inner half, browny purple on outer
EOTD, different angle.
If you recognize that EOTD, it's the one I was wearing when I swatched Rouge JC.  The picture was taken after all day wear, and there was obviously no creasing (I did use UDPP, as I always do).  These are my favorite purple eyeshadows at the moment, because they are just purple enough without being too bright or colorful for the average day.