My other purchase from Chanel holiday 2010 was Pink Pulsion glossimer.  I've been wanting a sheer fuchsia gloss (I've been ogling NARS Easy Lover) for a while, but had yet to pull the trigger.  Then along came Pink Pulsion, which is like Easy Lover with SPARKLIES, and I was sold.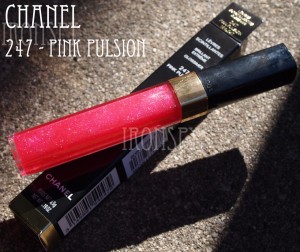 CLICK IT. Hey, sexy.
Sheer, sparkly pink goodness
On the lips, this imparts a sheer, sparkly pop of pink.  If you are looking for an opaque fuchsia gloss with sparkles, I recommend looking at Lancome La Laque Fever gloss in Electric Pink (swatched here).  As anyone familiar with glossimers will know, this is non-sticky and had decent wear time.   Get it before it's gone!
Vital Stats
Price: $27
Shade: Sheer fuchsia with sparkles.
Finish: sparkly, sheer gloss.
Limited Edition?: Yes (Chanel Les Tentatons de Chanel Holiday 2010)