With the recent MAC Semi Precious collection, I ordered the three mineral eye shadows that caught my eye, despite negative reviews on the blogs.  I got Unsurpassable, a celadon green with coppper shimmer; Clarity, a dusty gray with multicolor shimmer; and Jade's Fortune, a dark grayed navy with pink/green/blue shimmer.  Overall, I am pleased.  The only disappointment of the bunch for me was Jade's Fortune, because mine had much more black in it than any green shade, which made it nothing but a dark navy.  Blah.  That's the downside of MES–each shade is baked unique, so the dominant veining color will vary greatly from pan to pan.  Some people are hardcore about their MES, so they go to the counter to buy and ask the SA to open the boxes so they can get one with veining they like.  I don't see myself doing that, but if you are willing to that is probably the way to go.    Oh well, 2 out of 3 ain't bad.  On to photos!
Clarity, Jade's Fortune, Unsurpassable. Click for full size.
Clarity
Jade's Fortune
Unsurpassable
L to R: Unsurpassable, Jade's Fortune, Clarity
T to B: Unsurpassable, Jade's Fortune, Clarity
All swatched once with sponge tip applicator over UDPP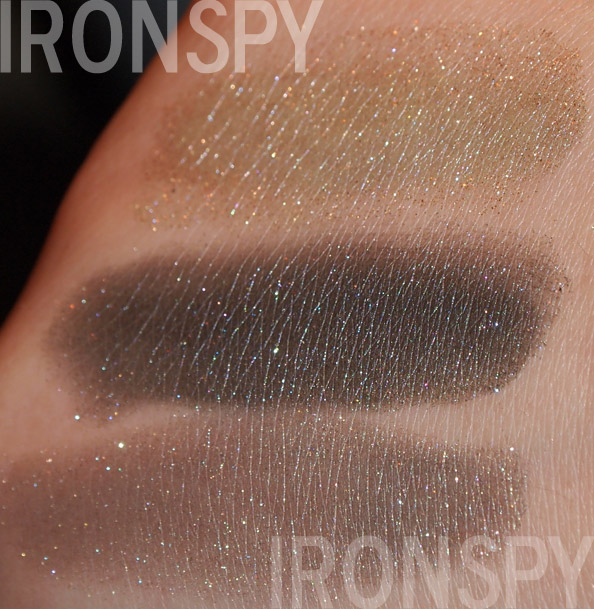 Jade's Fortune over Fyrinnae Pixie Epoxy – intense!
Swatched once with sponge tip applicator over Pixie Epoxy
See those last two? Over the Fyrinnae Pixie Epoxy?  Yeah, that's how I would say these would best be worn.  MAC's mineral eye shadows are often like loose pigments with tons of glitter, they need something sticky to adhere to in order to be shown in their full glory.  When over nothing but UDPP the give a softer look, with the shimmer kinda just sitting on top.  That's fine if you want a softer look, and also part of the reason I bought the lighter shades.  However, I can only see myself rocking Jade's Fortune as a liner (wet) or for really dramatic eye looks.  That's where Pixie Epoxy is perfect (you wear this OVER primer by the way, it doesn't stop creasing by itself).  If you do not have Pixie Epoxy, I recommend ordering some ASAP from Fyrinnae.  Since they can be a bit difficult to order from at times, I've heard tell that Too Faced Glitter Glue is similar, but I cannot personally attest to that.
All in all, I'd definitely buy Clarity and Unsurpassable again.  Jade's Fortune, probably not, but it's still good for a liner/dramatic shade so I'm not too disappointed.  If you get these though, I'd recommend getting some sticky base like Pixie Epoxy so these can glimmer to their heart's content.
Longest. post. ever.