So, my air conditioning broke last Friday, which coincidentally was the hottest day in the last, oh, 70+ years.  It was just fixed after a week, so now I'm back!  During this hectic week I still managed to get my hands on the stuff I wanted from NARS fall, which were the eye shadows and the nail polish (which will be swatched soon).   The fall shadows include:
Delphes trio ($45/.17oz): Delphes is a comprised of a very shimmery salmon pink highlighter, a satin bluish gray with sparse silver shimmer, and a shimmery sage green.  This is limited edition.
Grand Palais duo ($33/.14oz): Grand Palais is a shimmery silvery taupe with hints of purple and a matte browned rose.  This is limited edition.
Outremer single ($23/.07oz): Outremer is a matte, bright medium-toned blue.
Swatches!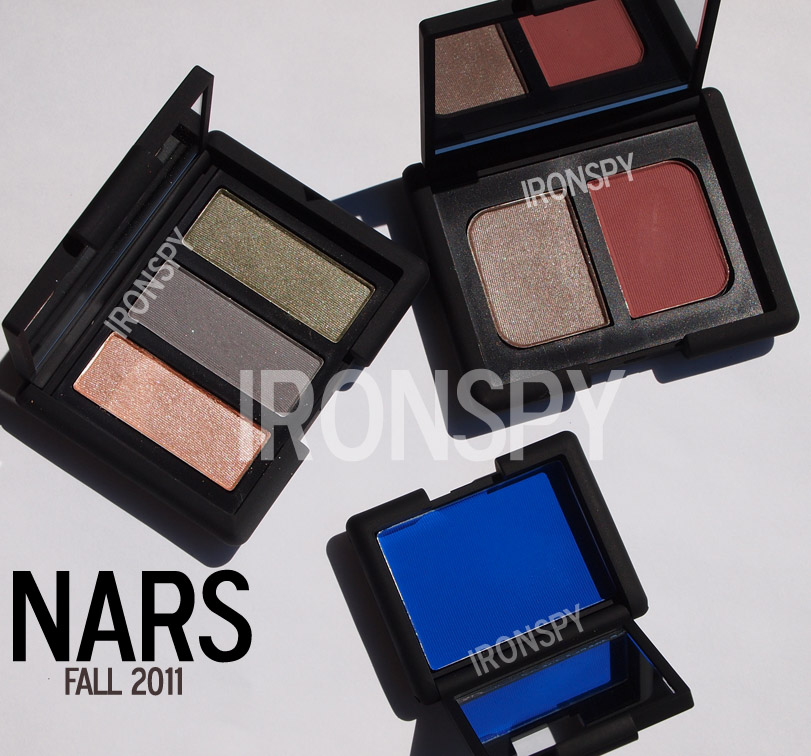 CLICK for full size!! Family portrait.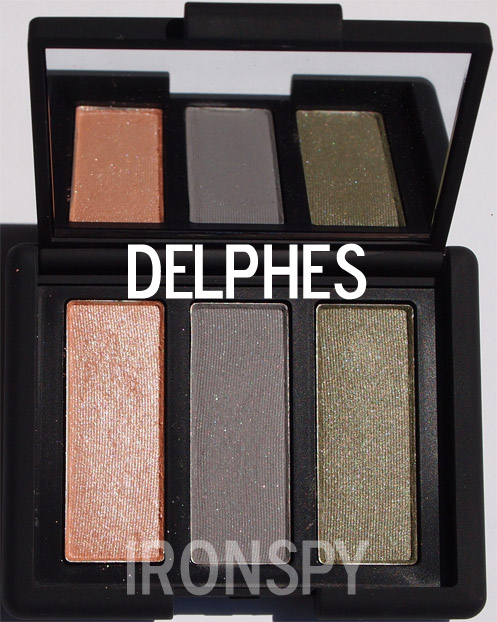 CLICK for full size!! Sun.
CLICK for full size!! Sun again.
CLICK for full size!! Flash.
I'll do EOTDs with these colors later, as I think for these it's especially handy to see them in action on the eye rather than just swatched on the arm.  I have to say, the colors are lovely, but I do not get a big "fall" vibe from them, more springy.  Not that it matters, but just an observation.  Out of the 3, my favorite is Grand Palais.  I love any kind of purple tinged silvery taupe, and I think pairing it with the rose shade is gorgeous and unique.   Outremer will be fabulous to add a pop of color to any look (especially neutrals, think Guerlain Vendome palette).  I think the weakest of the 3 is Delphes, since the colors are softer and not very unique.  I'm reminded of the duo I just bought with the NARS Loves San Francisco set when I look at it.  Still, it's very pretty and if you don't have similar colors I say go for it!
I can't wait to grab some more fall collections when they hit counters.  And I *really* can't wait for fall to actually get here, so I can leave air conditioning woes behind till next year.