Recently, NARS brought back the NARS Loves San Francisco and NARS Loves New York sets ($75 each) on their site for what they said was one week only.  I would check if they're still there, but since the NARS site is down for a makeover, I can't.  I decided on getting the San Francisco set as it had entirely exclusive items (the New York set included the permanent items Orgasm blush and New York eyeshadow) and the shades looked perfect for summer.  The NARS Loves San Francisco set includes:
Golden Gate Bridge blush: A yellow gold blush/highlighter with a hint of copper at certain angles
Haight Ashbury eye shadow duo: A soft, pastel gray matte and a shimmery, slightly metallic, soft pastel green
Angel Island eye shadow single: A soft pastel lilac with slightly iridescent silver shimmer
Alamo nail polish:  A salmon pink shimmer, slightly frosty
and a small NARS makeup pouch, made of nylon with a zip top
On to the swatches!  Most were taken indoors, but they are very color accurate.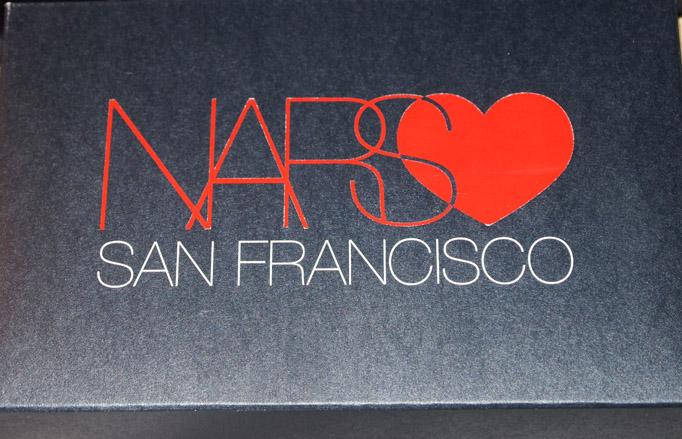 The cute little box it comes in
The nylon pouch, a perfect size for your purse
CLICK for full size!! Haight Ashbury duo, Golden Gate Bridge Blush, Angel Island single
(I don't know why I decided to take that photo on my facial cotton box haha)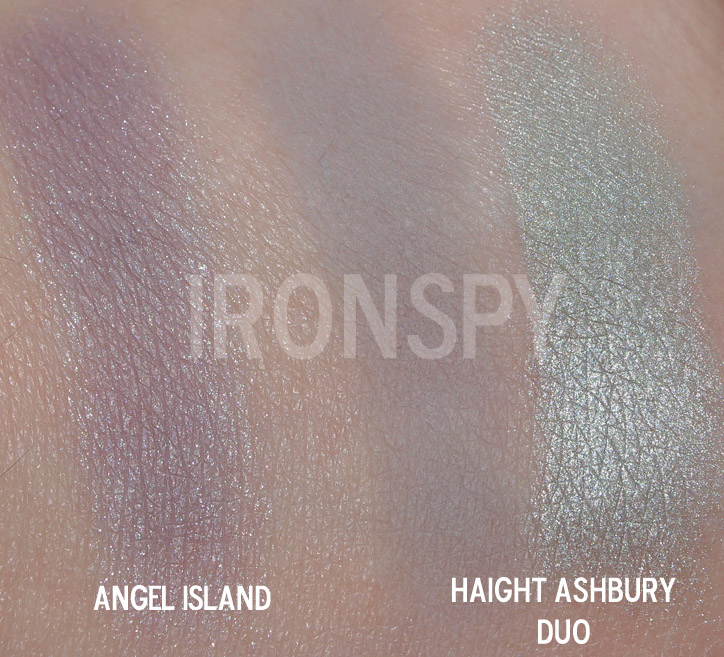 CLICK for full size!! Eyeshadow swatches, once with sponge tip applicator over UDPP
CLICK for full size!! Another pic to show shimmers better
CLICK for full size!! Golden Gate Bridge swatched on bare skin
CLICK for full size!! Same thing again, can really see the copper flash of the shimmer
CLICK for full size!! NARS Alamo polish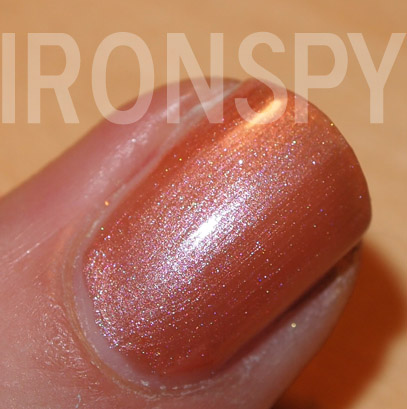 NARS Alamo swatch, 2 coats (no top coat)
I am in LOVE with this set!  Such great, pigmented, summery shades.  The polish is something I can't wait to wear on my toes, as I love soft pinky shimmery shades on my feet.  The duo and the single eye shadow shades will all work together in an amazing eye look.  What I'm probably most excited for is the highlighter, which can be worn heavily over blush to add a gold overlay, lightly as a highlighter, or built up as an eye shadow.
Are these shades unique? Not really, but they sure are pretty.  From what I'm aware, at least some of this set is renamed from old, discontinued shades.  For instance, I'm pretty sure Haight Ashbury duo is a resurrection of the old Ireland duo.  However, I personally don't have any similar NARS shades so I can't compare the others.
This is an amazing set for those just getting into the NARS brand or for the rabid NARS junkies like myself.  I know the site said they only had 100 available, but who knows if that was true.  When the NARS site is back in action, I recommend jumping on real quick to see if they have any left, and if so, snagging one up right quick!