With the re-release of NARS Zulu (2 bottles of which are on their way to me now, and 1 of Mash), I've been in a dark green mood lately.   One of my newest dark green acquisitions is Ulta Professional nail lacquer in Urban Jungle.  This is a fabulous, fabulous green.  It's a dark green that still remains green, it doesn't border on black like Zulu or any similar shades.  It also has a secret silver shimmer that gives the shade dimension but is hardly noticeable otherwise.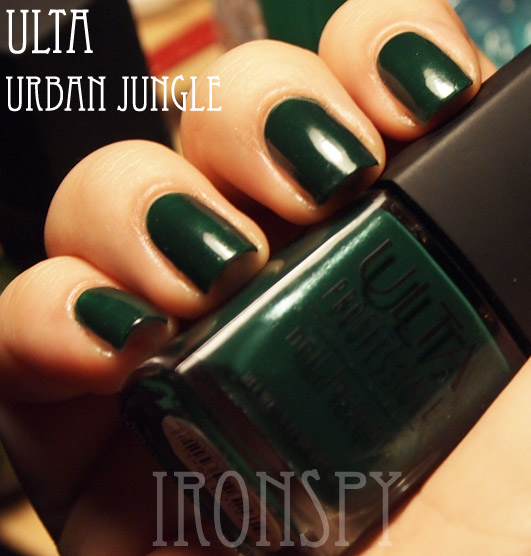 Noticeably green!
Sorry for the indoor lighting, there hasn't been any sun out here the entire week.  However, the color in the photo is very true to life.   I love this one!  Back-up worthy? Perhaps.  This is a must have for anyone who loves dark green and wants something that remains noticeably green even after 2 or more coats.
Vital Stats
Price: $7.50
Shade: Dark green with secret silver micro-shimmer
Finish: Technically a shimmer, but looks like a cream.
Limited Edition?: Not that I'm aware (yay!)