Ok, the heat index is 114 here.  It is literally too hot to move.  Even with the air conditioning on ALL DAY, it's 85 degrees in here.  So today, I only have quick/dirty comparison swatch of Revlon Carbonite ($4-5/.05oz) and Chanel Graphite ($25/.04oz).  I heard that Carbonite was a possible dupe to Graphite, but I'd say they are close cousins at most.  Carbonite has the same greeny pewter tinge as Carbonite.  However, it only has small silvery/irridescent shimmer whereas Graphite has larger silver as well as gold shimmer which is absent from Carbonite.  Furthermore, Carbonite has a warmer, more gold base than Graphite, which has a darker gunmetal base.  Carbonite is also more opaque than Graphite; the pictures are one coat of Carbonite and 2 coats of Graphite.  Okay, on to the pictures, and be warned — nasty cuticles and peelies are out in full force.  I am just too hot to care.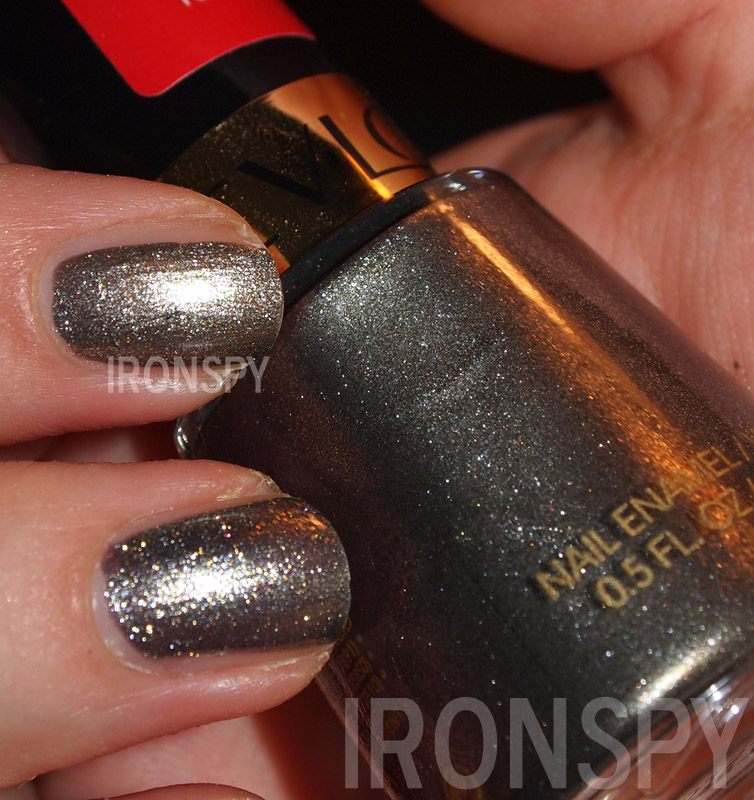 CLICK for full size!! Flash. Carbonite on top, Graphite on bottom.
Can really see how much larger/golder the shimmer in Graphite is here, as well as the warmer base of Carbonite.
CLICK for full size!! Flash. Carbonite left, Graphite right.
Another picture to show the difference in shimmer.
CLICK for full size!! Sun. Carbonite top, Graphite bottom.
Here you can see the warmer base of Carbonite, as well as it's slightly iridescent shimmer.
CLICK for full size!! Natural Light, Macro. Carbonite left, Graphite right
Here you can see that Carbonite has mostly silver flecks/shimmer, where as Graphite has larger gold shimmer as well.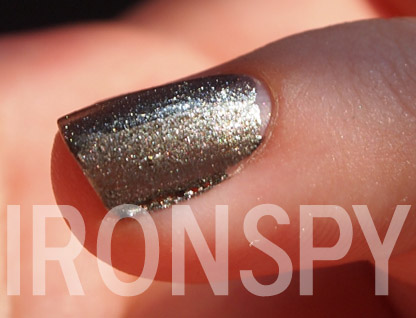 Sun. Graphite top, Carbonite bottom.
Did a split nail, just to emphasize how much darker Graphite's base is, as well as the gold tone in Carbonite's base.
I will do a full NOTD with Carbonite soon, but right now the humidity is just too intense, it probably wouldn't even dry.  Overall, Carbonite is a great polish, and you should grab it whether or not you have Graphite.  They are definitely different enough to own both.  If you are looking for a cheaper dupe to Graphite, I wouldn't exactly say this is it, but if it satisfies your craving, more power to you!
Going to go melt now.